Longoria Family Heraldry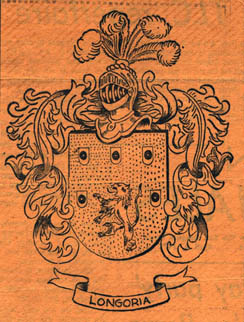 Longoria
This noble surname is of Asturian origin, since it had its ancestral home in the Council of Tineo, near Oviedo, capital of Asturia Province, in Spain. It proved its nobility in the Orders of Santiago in 1768, in the Royal Order of Alcántara in 1766 and in the Royal Court of Oviedo in 1773.
Two branches of the Longorias came to New Spain, Mexico, in 1773, with the expedition of Don Juan-Antonio de Moncada, Marquis of Encino, that disembarked at Villa-Rica de la Veracruz (Veracruz), coming from the island of Lanzarote, Canary Islands, Spain. The branches were of Don Matias Longoria, native of Oviedo, Spain, and of Don Pedro Longoria, native of Avilés, Spain, who went from Veracruz to Querétaro, Mexico, [and] from Querétaro went to Camargo, Nuevo León, Mexico. Don Pedro went on to found a new manor in Nuevo-Casas Grandes, Chihuahua, Mexico.
Don Matias Longoria went on to found a new manor in El Paso de la Grulla, Gran Valle de Téjas, U.S.A. where King Don Carlos III gave him land in order to colonize together with his family the province of New Santander, New Philippines Territory (today part of Texas), today in 1970, his descendents keep on benefiting from this concession. Don Matias wed Doña Maria del Rosario Menchaca in a second union, from which came a family of three sons and two daughters, who were Don Daniel, Don Angel and Don José Longoria and Doña Rosa Maria and Asunción Longoria.
Belonging to this branch were Don Juan Longoria, father of Don Ponciano, and this the father of Don Mateo Longoria, who had 12 children, one of them being Don Erasmo Longoria, who married Doña Josefina González de Longoria, who founded a new house in San Antonio, Texas; parents of Don Daniel Erasmo, J-Marie, Yolanda and Jeanete Longoria González.
Its coat of arms: in a gold field, a rampant lion with gules garnished with five azure quints.